Every year when Christmas rolls around, I am lost as what to do with my stockings in my S. FL home. This past Christmas, I solved my problem and made a stocking holder. I am super happy with how it turned out and love how it is useful the whole year round.
I bought a piece of decorative molding from home depot and cut it down to the size I wanted.
I then painted it white to match the white woodwork in my home.
I then drilled holes and used glass dresser knobs that I screwed in. Luckily I decided on 5 even though we are a family of 4 because last year we had an exchange student living with us, and you just never know... Of course, you can make yours as long as you want and with as many knobs as you want. I nailed the molding where I wanted it on the wall in my hallway, using finishing nails. I painted over the nails, and the project was complete!
Now my beach cottage home has a place for stockings at Christmas time.
The rest of the year, I hang diaper bags, and book bags off the hooks. I think I might make a board and paint it with chalkboard paint and use it for chore lists for the boys.
What do you think about my project? I would love to hear your thoughts and comments. Please stay a while and follow my blog. Thank you for all of your support!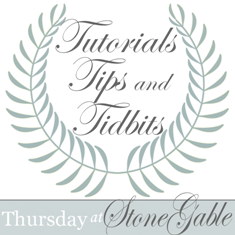 Pin It